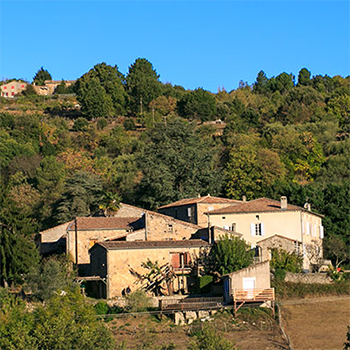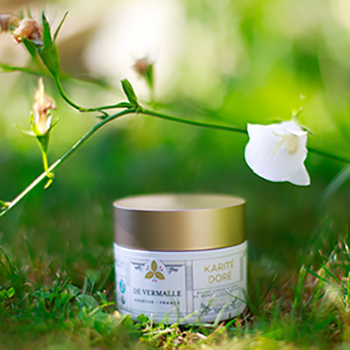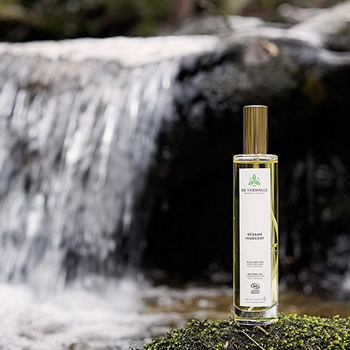 Vermalle is a small, peaceful hamlet located in the Monts d'Ardèche regional natural park, between Largentière and Valgorge, in the southern part of Ardèche.
Located in the commune of Rocher, renown for the purity of its air (a sanatorium was even built there in 1930) and its microclimate, this is where we decided to live and set up our business in 2012. Far from the tourist circuits, in the middle of a very rich fauna and flora, we wanted to pay tribute to our place of life and work and show our origins by taking the name of our hamlet.

Moreover, since 2016, following the modernisation of the addressing system, the word Vermalle has disappeared from our addresse, as we have a street numbers and a street names, we did not want Vermalle to be forgotten. This is not likely to happen now :)

Chestnut trees, vines, pines and olive trees offer an incredible diversity of landscapes and have been the rhythm of human activity throughout the seasons for centuries.

Our line of De Vermalle cosmetics reflects these traditions and this way of life linked to the land
The ingredients are raw
The scents are sunny
The sensations are authentic
De Vermalle care: as close to nature as possible.
Our range of face and body care products offers only intelligent formulas that are 100% natural and respectful of life:
short, logical and qualitative composition: no need to bring together dozens of active ingredients, only the best and in high concentration!
healthy, pleasant and effective composition: all ingredients are harmless for health, maximum use of certified organic ingredients, pleasure of use and results on the skin !
no ingredients of animal origin (suitable for vegans), no palm oil, no alcohol and no other unwanted ingredients !
 Universal care adapted to the needs of all skin types (the same product is suitable for different skin types, both men and women) and is multifunctional (one product can be used on the face, body and hair!) to limit the use of several products.
A word from the founder, Mélanie Philibert
" De Vermalle is the culmination of a project in which I have been putting all my energy since 2008. It's about offering everyone the opportunity to enjoy using truly healthy, high-quality, ultra-sensory, gourmet and effective cosmetics that bring together the best of nature. It is also the desire to accompany beauty professionals since several years to enable them to practice with natural cosmetics that are safe for their customers and for themselves! ! "

Enjoy your discovery !